Home
Bumblebees
Carpenter Bees
Honey Bees
Mining Bees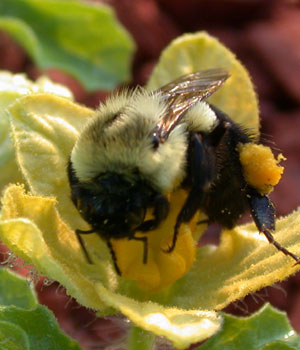 BUMBLEBEES
BUMBLEBEES IN GENERAL
Natural pollination using bumblebees (Bombus impatiens) is an effective way of increasing profits and reducing labor costs. Bumblebees can increase crop production through more efficient pollination. Many crops are well suited to natural pollination with bumblebees, including cucumbers, peppers, tomatoes, vegetables, seed crops, strawberries, blueberries, cane berries, melons, and squash. The nectar produced by the flowering plants in the greenhouse is not always sufficient for the optimal development of a bumble bee population. For this reason sugar water is supplied. Depending on the circumstances, the hive may be supplied with additional insulation.

-information provided by Buglogical
WHERE FOUND
It nests underground in colonies of several hundred individuals. The nests are usually in abandoned rodent burrows, in mulch, or under logs or debris.

-information provided by University of Florida