Call Florida Bee Removal whether you need bee removal services, or perhaps you have a bee swarm or yellow jacket nest on your property and would just like additional information. You are never a bother to us, we love the phone to buzz for bees! We have over 56 years experience in bee removal and relocation.
*We also perform LIVE bee removal without harming the bees*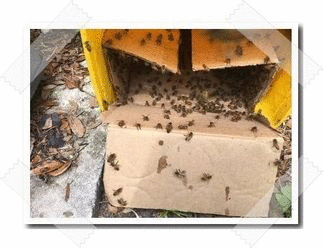 *Live Bee Relocation Services available*
Relocation of a bee colony involves removal of both bees and combs from one location ( deemed unwanted or unsafe ) to a more desirable ( safer ) habitat. One must bee safe in this procedureóbeing careful not to endanger people, pets, and property. Rogue use of pesticides, exotic pests, and poor bee keeping management threatens to further reduce bee colony numbers. Bee sure you use a licensed & insured bee removal company, as failure to do so could present you with unneccessary liability.
FLORIDA BEE REMOVAL 2018
This year looks to be especially busy for bee removal calls. Please hire a licensed and insured company for your bee removal, as bee swarms may be agressive. This unfortunate person in Florida already found out how aggressive a bee swarm can be this year. In addition, please don't take it upon yourself to remove the bees, as these people were injured in April of 2015 while being to close to a bee hive.
A tampa bay area minor league baseball game was interrupted by a swarm of bees that took over the home dugout this month. The news report provided some good pictures. A bee removal service was called in to remove the bees. Our webpage devoted to serve our customers seeking bee removal in Tampa, Fl may be found here.
Bee removal or relocation becomes necessary when bee swarms suddenly appear on trees, in containers, or around structures. Also, established bee colonies with combs, need removal when they interfere with normal human activities.